Liaisun Press Release
LIAISUN
A Groundbreaking Cloud-Based Multimedia Communication Platform by ilibrium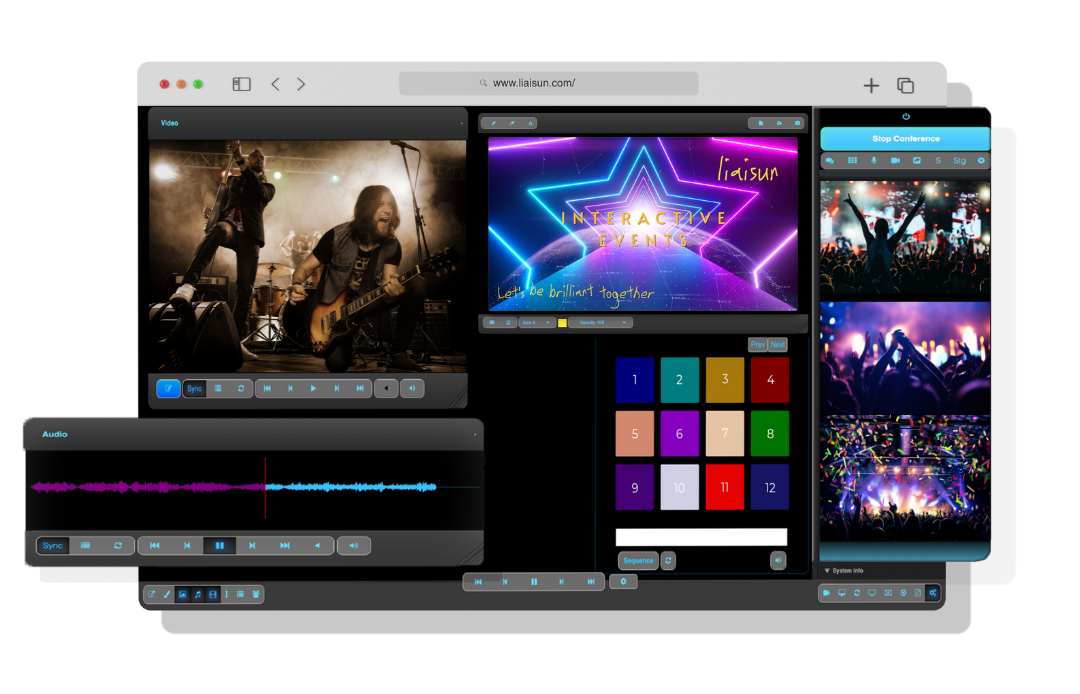 A quantum leap in media communication:
Liaisun is a suite of media and productivity apps for remote collaboration and distribution. We are thrilled to announce Liaisun's first public steps here at ilibrium as we launch our crowdfunding campaign! The platform is almost ready for beta testing and this funding campaign on Indiegogo will allow us to give it the final bit of love it needs.
ilibrium's vision is to revolutionize the professional sphere by bringing the much needed tools to allow for true remote collaboration and bring people together through interactive online events.
It can all be boiled down to two words: real-time.

How much creativity never sees the light of day because of distances between people and loss of momentum caused by slow technology? Here at ilibrium we want to bring people the tools that will connect them like never before, allowing for unrestricted collaboration.
A powerful collaboration platform:
There are two sides to Liaisun. The first one is a real-time remote workspace. Its suite of tools allow for fully synchronized audio, video, slideshow and more, along with high quality conferencing and easy file sharing. Eliminate the distance between you and your colleagues by recreating the 'in the office' experience anywhere in the world at anytime.
A unique broadcasting experience:
The other side of Liaisun is distribution. Broadcast to anyone anywhere by controlling the audience view in real-time. Create exciting and unique live, multimedia experiences thanks to our 'push-pull' technology and a wide array of tools.
Built for the finest minds:
Liaisun was created by entertainment industry veterans with deep understanding and knowledge of creative types: it was very much built with creatives in mind. This ranges from film producers to directors, from video editors to choreographers, from musicians to multimedia artists...
This is by no way an exhaustive list and Liaisun can serve a wide variety of other professionals. If your team is located over multiple locations, if you want to engage your customers in new ways, if you want to teach your skills and knowledge worldwide, Liaisun is for you!
We're excited to see how everyone is going to make Liaisun their own!
It's spreading through the grapevine:
Hearts start racing, anticipation is building up! The word is spreading around and established names are waking up to a new world of possibilities. From visual artists to Grammy winning producers! Hear what artist and cultural producer Clayton Campbell has to say about it: "Liaisun's capacities, visual and sonic, are pretty incredible, allowing a lot of what I am thinking of as an artist to happen in real time, and with a myriad of interfaces and interactions I have not seen elsewhere."
It's crowdfunding season:
Like we mentioned above we're launching our crowdfunding campaign. Your help will allow us reach the final stage, so we look forward to seeing you on Indiegogo. You can back us and show your support by buying one of many perks from a shoutout to an annual subscription, all granting you our eternal love. These perks will give you access to our beta testing and you'll be one of the first to experience the future of remote collaboration and interactive broadcasting.